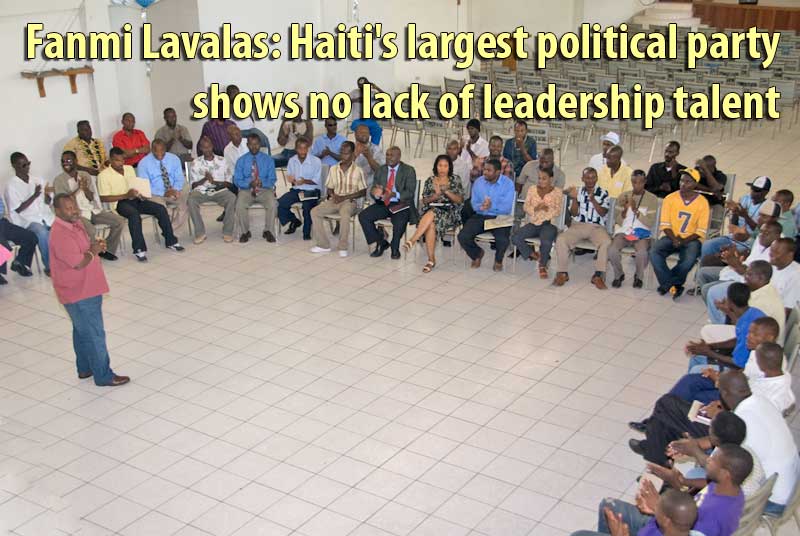 Executive Comission of Mobilization get together to share information and plan for future demonstrations.
Photos: ©2009 Randall White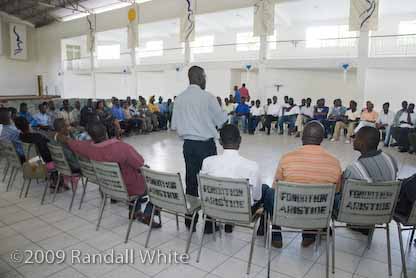 Ansyto Felix reports on the February 28th demonstration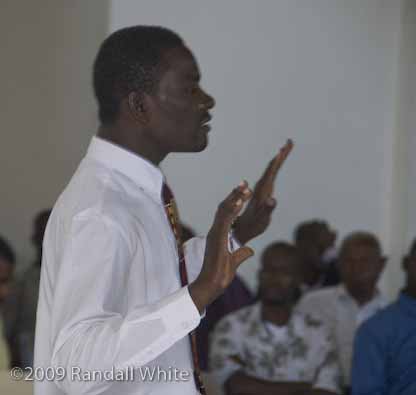 Wilfrid, a Cite Soleil activist reports back to the commissions about meetings they were having calling for the return of Aristide.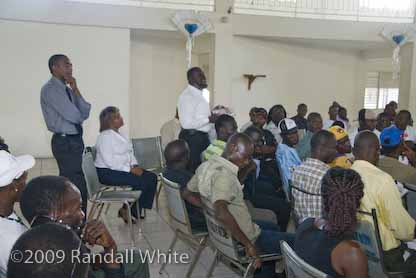 Lionel Etienne reading newspaper article about Aristide's return.
Fanmi Lavalas: Haiti's largest political party shows no lack of leadership talent
Haiti Action.net - Port au Prince — In the face of foreign press, Haiti's largest political party had a meeting today where many of the emerging leaders shared information and planned for the future of the party after five years of turmoil.
At a combined meeting of the communications and mobilizations commissions,
On February 28th thousands of Fanmi Lavalas activists took to the street of Port au Prince demanding the return of President Jean Betrand Aristide and marched up Route Delmas to put pressure on the illegal actions of the CEP (elections counsel).
Many from the international press conjectured that Fanmi Lavalas itself would have difficulty unifying its forces after a few top veterans decided to accept an easier path to power. Possibly it was the actions of the CEP in denying the right of the party for inclusion in the upcoming elections that led to the confusion, perhaps.
Tomorrow there will be, yet another, mobilization to protest the actions of the CEP at the Palais Justice as Fanmi Lavalas is taking the CEP to the courts over their latest actions.
At the meeting Rene Civil talked about preparing the proposals that will be presented to the UN delegation arriving next week.
Everything that Fanmi Lavalas does Jean Betrand Aristide is consulted. Even though the former President remains in exile in South Africa it was reported that it is always done with his consent. "There is no division in Fanmi Lavalas," says Civil, "the leadership of President Aristide allows them to deal with the divergence.
"On the other hand, we are working on the formation of future members of the organization. We are reinforcing the organization and at the same time we are reinforcing the leadership of President Aristide. Thanks to talents of the members of the organizations and the militants of Fanmi Lavalas we will become stronger. Fanmi Lavalas is united around President Aristide. With this unity we are demanding the return of President Aristide."
5 lanne aprè koudeta 29 fevrye 2004 la Fanmi Lavalas toujou sou lidèship Aristid.
Lendi 2 Mas 2009 aprè manifestasyon 28 Fevrye a kote plisyè milye senpatizan Lavalas te pran beton an pou te mande gouvènman poul kraze KEP a, nan Fondasyon Aristid plisyè manb òganisasyon an te reyini nan lokal Fondasyon Aristid pou demokrasi , pou fè bilan manifestasyon ki te fèt 28 Fevrye a e pou planifye lòt seri mobilizasyon. Anpil moun te pran lapawòl.
Tout moun sa yo te pran lapawòl nan yon sèl pozisyon.
1- yo te montre angajman yo pou yo toujou rete fidèl ak òganizasyon an e pou rete soude ak reprezantan nasyonal la Dr Jn Bertrant Aristide, malgre tout divèjans ki ka gen ant manm òganizasyon an.
2- yo te pale tou sou obligasyon pou Fanmi Lavalas patisipe nan pwochèn jouk elektoral yo.
3- yo di tou ke yo toujou kenbe pozisyon pou fòse gouvènman an kraze KEP a .
4- yo te fè sòti pozisyon yo sou tout vye deklarasyon ki ta vle fè kwè ke Fanmi an divize.
5- An dènye lye yo te plede an favè retou Titid san pèdi tan andedan peyi Dayiti.
Thousands march in Haiti demanding return of Aristide Feb 29
Thousands more take the streets of Haiti, demanding the return of President Aristide Mar12
Propagandhi: progressive thrash, Haiti and activism on tour Feb 26
Haiti bill calling for investigation of U.S. role in 2004 Coup d'État Feb 5
The rebirth of Konbit in Haiti Dec 17
Contact us: info@haitiaction.org
Contact us: info@haitiaction.org