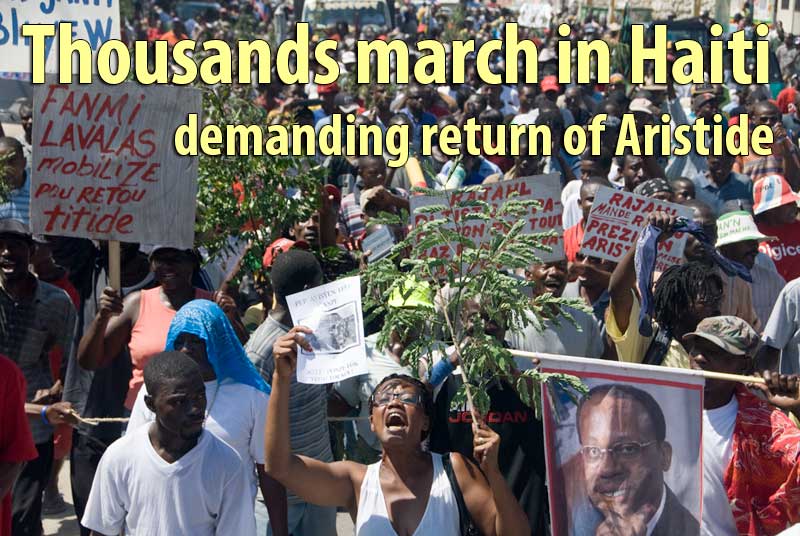 February 28,2009 - Port au Prince Haiti — Lavalas supporters quickly march uphill on Route Delmas to reach the CEP (election council) holding Branches of Peace, protest sighns and banners of President Jean Betrand Aristide. Photos: ©2009 Randall White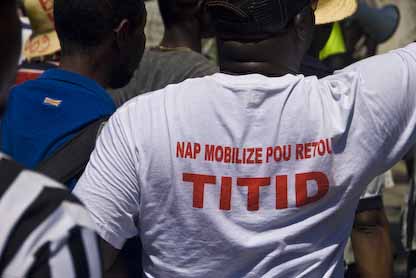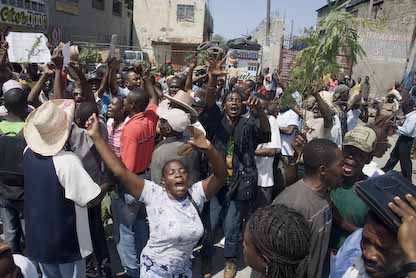 The march departed from St. Jean Bosco down Grand Rue before turning into Bel Air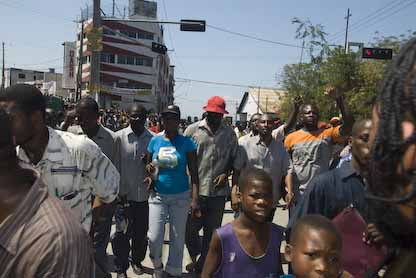 Continuing up Delmas, Rene Civil, here in crowd — second from right — at Delma 18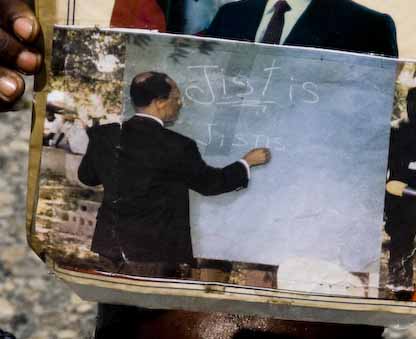 Closup from below: During a meeting of students in the Adult Literacy Program President Ariste provides a word study on Justice.
Nan Foto sa a Titid ap montre moun ki pa konn li yo, koman Jistis se yon zouti ki enpòtan nan tout sosyete demokratik e kòman pou yo ekri mo sa a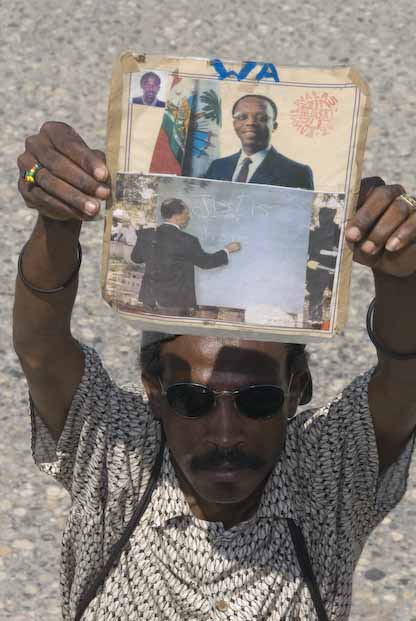 Many Lavalasien bring out their treasured images and signs to the demonstrations.
Thousands march in Haiti demanding return of Aristide
View 85 images in web photo gallery
Haiti Action.net - Port au Prince — Thousands of Fanmi Lavalas pro-democracy activists returned to the streets of Haiti, yesterday, in a peaceful but spirited demonstration and march to demand the return of President Jean Betrand Aristide without any conditions. February 28, 2009 marks five years since the 2004 Coup d'État and five years of occupation by US Marines and the UN. The march began at the former parish of Aristide, St. Jean Bosco they continued up Rue Saint Martin into the neighborhoods of Bel Air.
Many Lavalasien joined the march on its winding journey through the Bel Air neighborhoods then up Route Delmas swelling the demonstration to 3 to 4 thousand by the time it reached its destination at the CEP (Conseil Electorial Provisoire) offices at Delmas 41 where the peaceful demonstrators were met by heavily armed CIMO and UN tanks. Many are crying out to the Préval government to dismantle the CEP after illegally denying participation of Fanmi Lavalas candidates in the upcoming Senate elections.
Officials of the Lavalas commissions of Permanent Mobilization, and Communication also demanded the participation of the Fanmi Lavalas candidates in the elections.
Other demands from the two commissions:
"Fight against hunger and misery that are killing the Haitian people"

"Fight social and political exclusions, especially the neoliberal political agenda that the Préval government is promoting."
Fanmi Lavalas promises to keep up the intensity of these demonstrations until "Titid" returns to Haiti. "The demonstrations will be done in a peaceful and democratic manner. Fanmi Lavalas is a peaceful organization and Titid is the Symbol of Peace."
The statement was made by the following commission members:
Mr. Rene Civil
Mr.Ansyto Felix
Mr. Frisnel Maitre
Mr. Bedford Claude
View 85 images in web photo gallery
Their statements in Kreyol:
Objektif manifestasyon 28 Fevrye 2009 la se:
Retou san kondisyon prezidan Titid nan peyi a.
Pou prezidan preval kraze KEP defakto sa a.
Egzije patisipasyon òganizasyon Fanmi Lavalas nan eleksyon yo.
Pou konbat grangou ak lamizè kap touye pèp ayisyen an,kont esklisyon sosyal ak tout move pratik politik neyoliberal andedan peyi Dayiti.
NB: Jan de manifestasyon sa yo se lansman yon seri mobilizasyon manch long ki va kontinye jouk Titid tounen lakay, sa va fèt nan bon kondisyon pasifik e demokratik, paske fanmi lavalas se patizan lapè e Titit se senbòl lapè a.
Moun ki responsab jan de aktivite sa yo se:
Rene Civil
Ansito Felix
Fritznel Maitre
Belford Claude - poun site sa yo selman
Tout moun sa yo se manb Komisyon Mobilizasyon ak
Kominikasyon Fanmi Lavalas
View 85 images in web photo gallery
Fanmi Lavalas: Haiti's largest political party shows no lack of leadership talent Mar2
Thousands more take the streets of Haiti, demanding the return of President Aristide Mar12
Propagandhi: progressive thrash, Haiti and activism on tour Feb 26
Haiti bill calling for investigation of U.S. role in 2004 Coup d'État
Feb 5
The rebirth of Konbit in Haiti Dec 17
Haiti's death squad ally of CIA and proconsul McCarry sentenced to 30 years Nov 12
Haiti: Racism and Poverty Oct 26
Haiti's new PM and the power of NGOs Sep 30
Haiti waits in fear for Hurricane Ike Sep 4
Haiti's UN military base expanding: What is Washington up to in Cite Soleil? Sep 4
Haiti's deadly hurricane season just getting started Sep 1
Contact us: info@haitiaction.org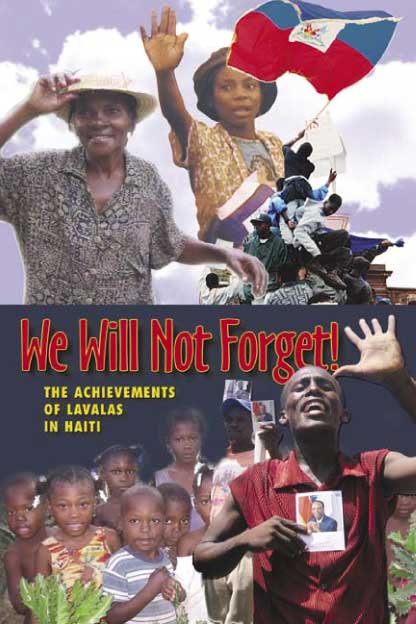 Contact us: info@haitiaction.org