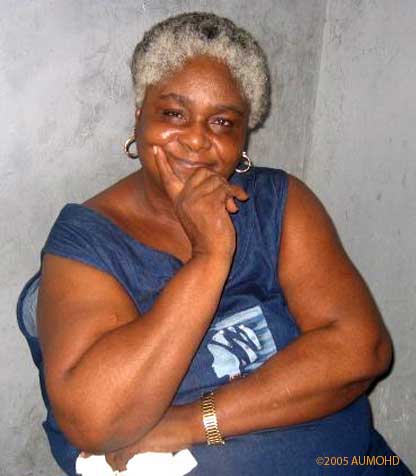 © 2005 AUMOHD - photographer: attorney Evel Fanfan - Annette Auguste (Sò Anne), June 23, 2005 grandmother, pro-democracy activist and political prisoner. This picture was taken at Petionville Penitentiary where she has been held without charges since her violent arrest by US Marines on May 10, 2004
Haiti activists around the world demand freedom for political prisoner
Sò Anne
Annette Auguste, Haitian folksinger and pro-democracy activist known as SÚ Anne, has been held in prison without charges for more than one year, like many other political prisoners in Haiti's jails.
But she's not forgotten.
Today Haiti Action Committee members delivered petitions to U.S., U.N. and Haitian officials with 1,067 signatures from people living in 29 countries demanding the release of this fierce supporter of President Jean Bertrand Aristide. Aristide was forcibly removed from Haiti by U.S. government officials Feb. 29, 2004. Since that time the U.S.-backed government has rounded up, jailed, beaten and executed thousands of supporters of Fanmi Lavalas, Aristide's political party.
"SÚ Anne's only crime is fighting for democracy", said several members of the Haiti Action Committee who have visited So Anne in prison. The Coalition to Free SÚ Anne includes 70 organizations (see details below).
Haiti's interim prime minister has declared there are no political prisoners in Haiti. However, in a recent letter from her prison cell, Sò Anne reminds the world that she is, in fact, a political prisoner, a status she shares with some 1,000 others, including ousted Aristide loyalists, Prime Minister Yvon Neptune and Minister of the Interior Jocelerme Privert:
"If I am not freed there are political prisoners in Haiti. If former Prime Minister Yvon Neptune and former interior minister J. Privert are not freed there are political prisoners in Haiti. If ALL the prisoners in Haiti who have been arrested merely for their affiliation with Lavalas are not freed, there are political prisoners in Haiti."
Haitian attorney Evel Fanfan reports that SÚ Anne is confined to a womans prison where there are six-10 people in a cell intended for two; three of the 108 women are pregnant, two have babies with them; two are known to have AIDS; another approximately 30 suffer from fevers; there are no medications. There are 17 minors. Only one prisoner has been brought to trial.
The petition says:
Release Annette Auguste: Prisoner of Conscience in Petion-Ville Penitentiary, Haiti
Whereas Annette Auguste, otherwise known by her performing name Sò Anne, was arrested on May 10, 2004 by U.S. Marines following a violent assault of her home, which included the use of grenades and plastics explosives;
Whereas Auguste was arrested without a proper warrant in violation of the Haitian constitution and has been held in a Haitian jail without formal charges since May 10, 2004;
Whereas, Auguste has declared herself innocent and a Prisoner of Political Conscience according to the definition espoused by Amnesty International;
Whereas, Auguste has stated that Haitian authorities cannot release her without approval of the Bush administration and the U.S. State Department;
We, the undersigned, demand the U.S. government and the Haitian government provide for the immediate and unconditional release of Annette Auguste and all other political prisoners in Haiti.
The Coalition to Free SÚ Anne includes:
1. Haiti Action Committee, CA 2. Institute for Justice and Democracy in Haiti, OR 3. Haitian Lawyers Leadership Network, CT 4. Marin Interfaith Taskforce on the Americas, CA 5. Code Pink Women for Peace Hayward, CA 6. SF Women in Black, CA 7. Haiti Justice Committee, MN 8. Malcolm X Grassroots Movement, CA 9. Peninsula Peace and Justice Center, CA 10. Jewish Voice for Peace, CA 11. Justice for Palestinians, CA 12. Sacramento Coalition for Democracy in Haiti, CA 13. Fondasyon Mapou, D.C. 14. East Bay Sanctuary Covenant Haiti Committee, CA 15. International Socialist Organization, CA 16. Campus Peace Action California State University Sacramento, CA 17. St. Joan of Arc Haiti Committee, MN 18. Peace No War Network 19. Progressive Democrats of America Sacramento Chapter, CA 20. San Francisco Bayview Newspaper, CA 21. Vancouver Latin America-Caribbean Solidarity Committee, Canada 22. Haiti Solidarity, B.C, Canada 23. Interfaith Women for Peace, CA 24. Fanm Lakay, NY 25. Konbit Ayisian Kakola, NY 26. Veye Yo, FL 27. Fanm Veye Yo, FL 28. SEIU 715 African American Caucus, CA 29. Lake County Amnesty International, CA 30. Welfare Poets, NY 31. Out of Control Lesbian Committee to Support Political Prisoners, CA 32. Cape Codders for Peace and Justice, MA 33. April6Vt Citizens Lobby, VT 34. Nicaragua Center for Community Action, CA 35. Ecumenical Program on Central America and the Caribbean 36. Women's International League for Peace and Freedom, DC 37. Haiti Solidarity Committee, FL 38. Quixote Center/Haiti Reborn, MD 39. Santa Cruz Bolivarian Circle, CA 40. Canadian Union of Public Employees Local 3903 - International Solidarity Working Group, Canada 41. UCSC Cuba Study Group, CA 42. Global Womens Strike, International 43. Code Pink Bay Area, CA 44. Code Pink Portland, OR 45. Turnwind Peace and Justice, AZ 46. Gabriela Network Bay Area, CA 47. Comité québécois pour la reconnaissance des droits des travailleurs ha*tiens en République dominicaine, Canada 48. Global Exchange 49. CESAPI Coalition in Solidarity with the People of Iraq, Canada 50. ActionLA Americas Watch, CA 51. Haiti Support Network (HSN), NY 52. South Bay Labor for Peace and Justice, CA 53. San Franciscans for Our City's Health, CA 54. AUMOHD, Haiti 55. Womens Fightback Network 56. International Concerned Family and Friends of Mumia Abu-Jamal 57. No One is Illegal Vancouver, Canada 58. Portland Peaceful Response Coalition, OR 59. East Timor Action Network- Madison, WI 60. Women for Peace-Madison, WI 61. TransAfrica Forum, International 62. Faculty For Peace and Justice, CSUS 63. Mourning Mothers, CA 64. Grandmothers For Peace, International 65. KAKOLA, NY 66. National Coalition of Blacks for Reparations in America (N'COBRA), CA 67. Foundations for Our Nu Afrikan Millennium (FONAMI), CA 68. African Initiative of American Friends Service Committee (AFSC), Pacific Mountain Region 69. African Initiative for Peace Democracy and Development, South Africa 70. Women's League, South Africa
Signatories include individuals from: Australia, Argentina, Belize, Canada, Czechoslovakia, Denmark, Ecuador, Great Britain, Grenada, Haiti, Ireland, Italy, Japan, Korea, Netherlands, Norway, Philippines, Portugal, Saint Lucia, South Africa, Spain, Sri Lanka, Sweden, Switzerland, Trinidad, Turkey, United States
Contact:
Sasha Kramer: Haiti Action Committee 503-807-3923
Brian Concannon: Institute for Justice and Democracy in Haiti 541-432-0597
brianhaiti@aol.com
Petitions are being sent to:
US GOVERNMENT CONTACTS
James B. Foley, ambassador to Haiti:
011-509-222-0200 Fax: 223-9038
Ambassador Anne Patterson,
acting permanent U.S. representative to the United Nations:
212-415-4050 or Peggy Kerry: kerryp@state.gov
HAITIAN GOVERNMENT CONTACTS
Raymond Joseph, ambassador from Haiti to the U.S.
202-332-4090; embassy@haiti.org
Henri Dorléans, minister of justice:
011-509-245-5856
UN CONTACTS
Secretary-General Kofi Annan:
inquiries@un.org; press office: (509) 510-2563 ext. : 6343
United Nations Stabilization Mission in Haiti:
Gender issues: Nadine Puechguirbal:puechguirbal@un.org
Human rights: Mahamane Cissé-Gouro cisse-gouro@un.org
Thierry Fagart fagart@un.org