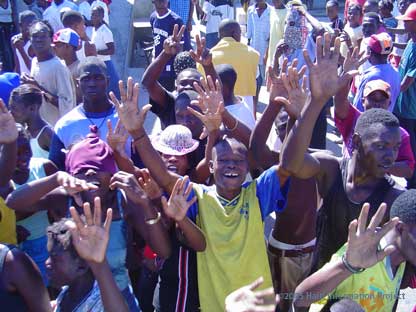 Protestors in Cite Soleil demonstrate against a pre-dawn military operation executed by UN forces and the Haitian police. Along the route many in the crowd broke into chants and put up five fingers in a gesture symbolizing their call for the return President Jean-Bertrand Aristide.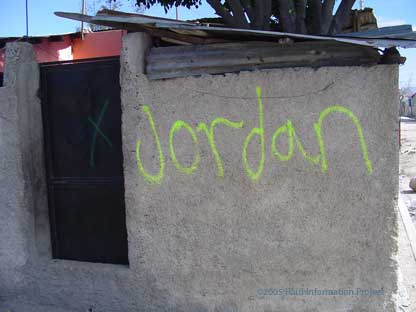 Hundreds of Brazilian, Peruvian, Argentinian and Jordanian troops of the UN mission entered neighborhoods in Cite Soleil, Haiti this morning. Accompanied by special units of the Haitian police they conducted a massive sweep reportedly detaining and arresting hundreds of residents. They also conducted a campaign of intensive house-to-house searchs. After searching each home they would mark it with a "X" in flourescent lime green spray paint. Searchs of homes in this area were apparently led by Jordanian forces.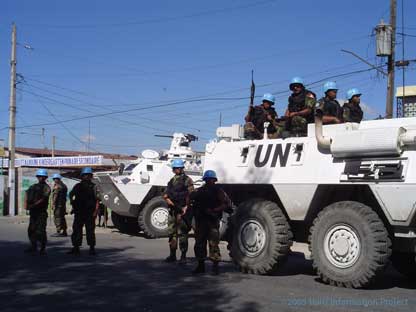 Peruvian and Jordanian troops anxiously monitor a spontaneous demonstration that erupts condemning hundreds of detainments and arrests made by UN forces and Haitian police earlier in the day. Protestors also complained of a campaign of intensive house-to-house searchs and UN forces firing upon a local school housed in a church.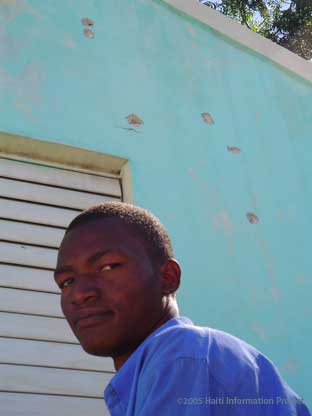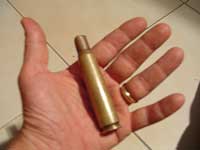 An unidentified student of the Jean Huss school which is part of the Weslyenne Church in Cite Soleil sits in front of bullet pocked wall. The student described how UN forces and the Haitian police forced their way into the school yard and shot at the church. Spent ammo cartridges marked M-50 caliber littered the church grounds.
A resident stands next to a large green "X" painted by UN forces on the front of his house after searching it. He complained that UN troops illegally forced their way into his house without a warrant and threatened to arrest him if he resisted.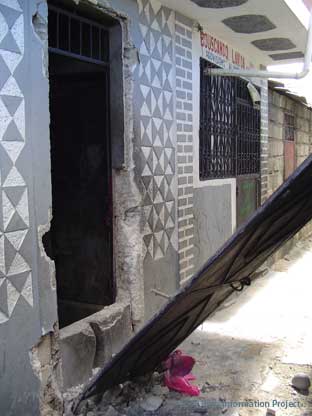 UN forces broke down doors to homes like this in Cite Soleil where may residents were away and their houses locked for security. Residents complained of hundreds of homes being searched without warrants while hundreds of persons were reportedly detained and arrested in an early morning raid by UN forces and the Haitian police.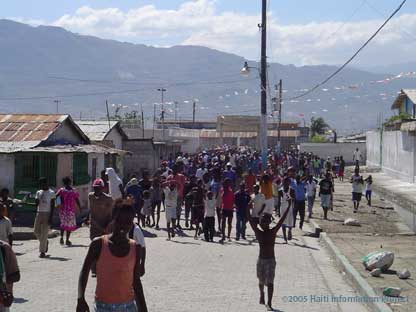 Hundreds of residents of Cite Soleil break into spontaneouus protests condemning operations by UN military forces and the Haitian police. Hundreds of persons were reportedly detained and arrested while hundreds of homes were illegally searched in a pre-dawn raid on the largely pro-Aristide community.
UN works to squash followers of Aristide in Haiti
Haiti Information Project (HIP)
Port-au-Prince, Haiti (HIP) - Rounding up residents and kicking down doors, heavily armed troops of the UN and the Police Nationale de Haiti (PNH) invaded several neighborhoods of Cite Soleil one day after an alleged attack on the headquarters of the mission of the Sisters of St. Vincent de Paul.
Cite Soleil along with Bel Air are slums in the capital of Port au Prince that have served as launching sites for demonstrations demanding the return of President Jean-Bertrand Aristide. Aristide was ousted last February 29th amid charges he was kidnapped by U.S. Marines and remains in exile in the Republic of South Africa. Today both areas have come under strict millitary control by UN troops and the Haitian police since violence erupted last Sept, 30 when witnesses and journalists reported that the peacekeepers stoodby when police fired on unarmed demonstrators calling for Aristide's return.
Hundreds of UN troops and Haitian police formed a dragnet that resulted in truckloads of residents being arrested without a warrant in the sprawling neighborhood that is home to more than 500,000 Haitians. Following the arrests, the UN and PNH conducted house-to-house searches as residents of the slum reacted with fear, anger and disgust. The UN left a calling card of a fluorescent lime-green "X" on residences they searched without a legal warrant.
Representatives of President Jean-Bertrand Aristide's Lavalas party accused gunmen associated with a gangster named Labanye, who they claim is aligned with wealthy sweatshop owner Andre Apaid, of attacking the Catholic mission to justify the military intervention. Residents recalled violence in the early morning hours of December 14th, when heavily armed gangsters of the so-called Baz Labanye, began firing on the population. The firefight that followed gave the UN justification to militarily occupy Cite Soleil.
Last December 14th an angry resident of Cite Soleil exclaimed, "Baz Labanye, controlled by Andre Apaid and Reginald Boulos [of the former opposition], began a heavy attack against us and many people were killed. The United Nations then used this as a pretext to invade our neighborhood and end our calls for Aristide's return. It is clear they are working together to exterminate us." Most residents echoed the same sentiments today as they sought information concerning the whereabouts of their loved ones.
"Where is my boy?" asked 49 year-old Marie Douisson, whose door was kicked in by Jordanian troops who left a huge fluorescent lime-green "X" in front of her house after arresting her son. She continued, "What right does the blue helmets have to break down my door? They gave no reason and then they took my son away in handcuffs. What did he ever do except ask that Aristide be returned to Haiti. Aristide was democracy. This is not democracy."
At the church of Weslyenne, students recalled the violent operation by the UN and PNH in tears. A student who feared giving his identity recalled, "The UN shot at our church with huge guns. Look at the damage they did to the school, in the church grounds. Look at the damage to the church. I still cannot understand their violence against us."
The population of Cite Soleil reacted to the military action of the UN and the PNH with a peaceful demonstration that ultimately broke out into a call for the return of President Jean-Bertrand Aristide. A representative of Lavalas in Cite Soleil concluded, "The UN wants to pretend they are for democracy. We will surprise them with a democracy they have never dreamed of in their own countries. A Haitian democracy of the poor majority they are helping to destroy and never had in their own countries. We thank them for the example. But always remember 1983. We will never forget our own history even when their memories fail or they have no interest in us. We can never forget because this is Haiti. This is our country."
See also related stories
UN occupies Bel Air in Haiti
Port au Prince, Haiti (HIP)
- Hundreds of Brazilian soldiers and special units of the Haitian National Police stormed the pro-Aristide neighborhood of Bel Air in the early morning hours of January 5. Residents were surprised and frightened by the armed incursion as gunfire broke out. Witnesses reported that five persons were killed as the operation unfolded.
- Jan 7 2005
Deaths reported as UN enters Haiti slum Port au Prince, Haiti (HIP) Sustained and heavy gunfire erupted in the pro-Aristide slum of Cite Soleil at about 3 a.m. this morning and was followed by an incursion into the area by hundreds of Brazilian and Jordanian troops of the United Nations. - Dec 14 2004
Tearing up the Charter: UN's Erosion Continues in Haiti Flashpoints Radio's Dennis Bernstein interviews Kevin Pina and Brian Concannon. Oct 18 2004
From COHA about UN
Council On Hemispheric Affairs
The Haiti Information Project (HIP) is a non-profit alternative news service providing coverage and analysis of breaking developments in Haiti.
Contact: HIP@teledyol.net