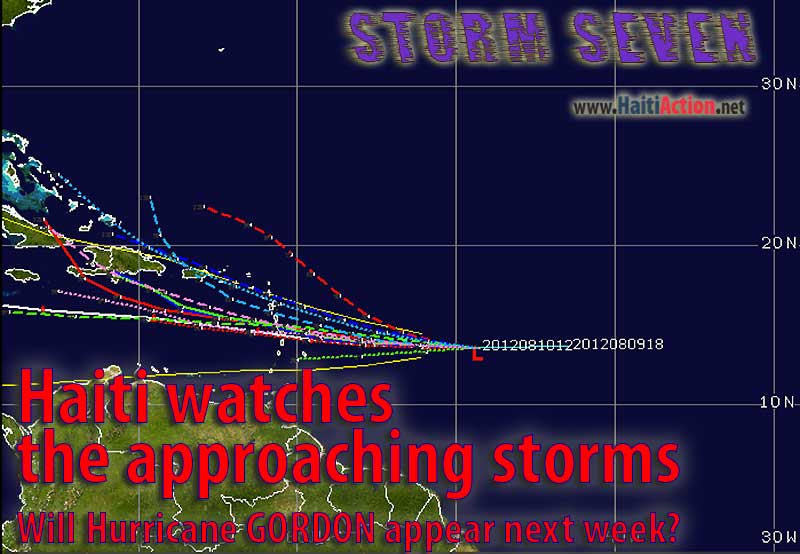 Computer generated forecast models show significant divergence as SEVEN approaches Haiti
Haiti watches the approaching storms.

Will Hurricane GORDON appear next week?
UPDATE Saturday August 11
...TROPICAL DEPRESSION DEGENERATES INTO A TROPICAL WAVE...SQUALLY
WEATHER STILL LIKELY ACROSS PORTIONS OF THE LESSER ANTILLES LATER
TODAY AND TONIGHT...
HaitiAction.net - Port au Prince, Haiti — Haiti's southern coast will see heavy rainfall over the next couple of weeks even if the impending tropical cyclones in Hurricane Alley don't develop into major storms. Storm watchers in Haiti are closely following two formations in the Atlantic that portend a very busy mid-summer hurricane season and a significant change from the last two years. Tropical storm ERNESTO may have dropped significant rainfall last week, but the center of the tropical storm stayed near the 15th parallel as it passed through the Caribbean below Haiti.
A tropical depression "SEVEN" just passed the NOAA Mid-Atlantic buoy — Station 41041 — overnight traveling forward at a fairly fast clip — 20 knots. For the next 24 hours this storm is not expected to develop significantly and could even diminish into a remnant. Just the same another tropical cyclone — Invest 93L — is likely to become TD "EIGHT" today as it moves past the Cape Verde Islands 1,800 miles behind SEVEN. Invest 93L is facing more favorable conditions over the next 48 hours and could grab the Tropical Storm GORDON ahead of SEVEN. In that event, SEVEN will become the eighth named storm Tropical Storm HELENE if it develops soon thereafter.
In any case, SEVEN is tracking westward about 100 miles north of the ERNESTO track and is likely to pose a more significant threat to Haiti if it stays close to the official forecast over the next four days and will approach Haiti by early Tuesday morning. Even though the official forecast track is for this storm to follow the ERNESTO track through the middle of the Caribbean, there is significant divergence in other forecast models as the Atlantic Subtropical Ridge has shrunk significantly from last week and a low pressure trough has developed through the Bahamas. This storm will remain a threat to the entire island for the next three days if it develops.
For the most recent Graphicast from the NHC, go to the Tropical Cyclone Page of HaitiAction.net where there are also many links to relevant forecast services in that region.
View the latest observations near Tropical Storm ERNESTO
HaitiAction.net will be tracking the progress of this storm. For the latest official updates, go to the Centre National de Météorologie (CNM) web page Many forecast and tracking resources can be found on the Tropical Cyclone page at HaitiAction.net
----------
  RAW
----------
Share this story with your networks

SEE ALSO
Contact: info@haitiaction.org
Haiti's hurricane season heats up with storms ERNESTO and FLORENCE Aug 4
Tropical Storm ERNESTO will threaten Haiti this Sunday Aug 2
Haiti: Where is the Money? - Researcher Version Jan 4 2012
La Gavage: Obama helps Republican militarists take control in Haiti
May 13 2011
Haiti's close call: Hurricane IRENE scrapes the Mossad Coast before heading north Aug 22 2011
Hurricane MARIA could threaten Haiti next week Sep 6 2011
Haiti could kill EMILY's strength, but many in camps will still have a sleepless night Aug 3 2011
Haiti: Alarming resurgence of cholera Jun 9 2011
The return of President Aristide to his home in Haiti Mar 20 2011
Haiti: MSF Nears 100,000 Cholera Patients Treated Jan 18 2011