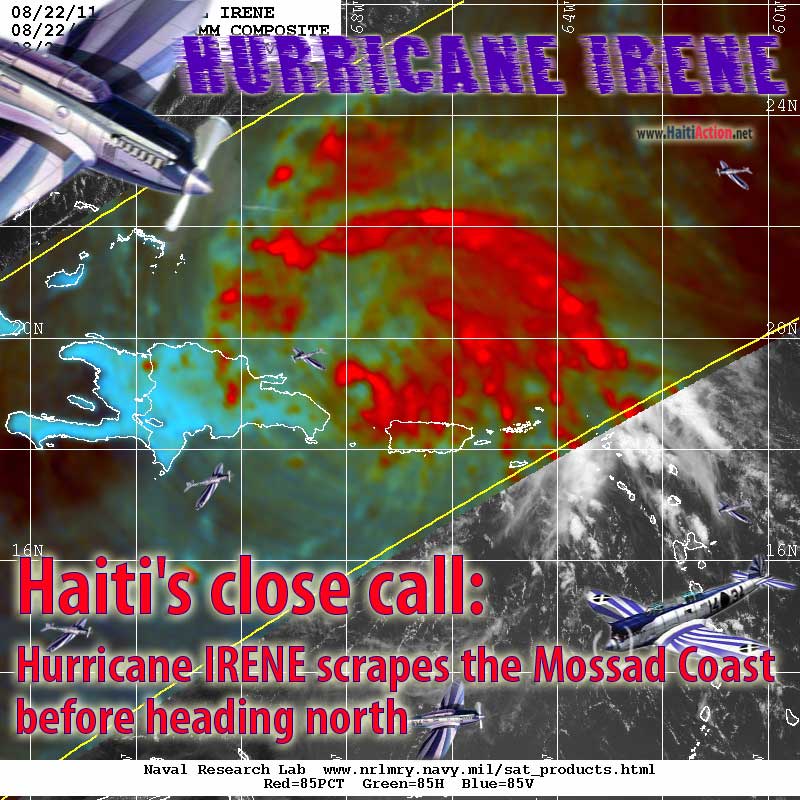 The US Navy's enhanced satellite image shows that most of the intensity of the storm is still to the northeast of the center.
Haiti's close call: Hurricane IRENE scrapes the Mossad Coast before heading north
HaitiAction.net - Port au Prince, Haiti — It may be too early, but the People of Haiti can breathe a sigh of relief as Hurricane IRENE begins to move away from the Island after forcing the tourists of Punta Cana back into their Spanish owned neocolonial mega-resorts to wait out Tropical Storm force winds. Since developers and charcoal distributors denuded the Dominican Republic's landscape, there aren't too many trees to knock over in the USA's "client state."
The National Hurricane Center of Miami (NHC) believes that there is a likelihood that IRENE could reach Category 3 on the Saffir-Simson Scale as it heads over the "very warm" waters near the Turks and Caicos Islands. The storm has been maintaining a relative 300º (NWbW) heading for almost two days despite what the storm spinners have been claiming. As stated here on HaitiAction.net last night, there is a good likelihood that the center IRENE could pass closely to the northeast side of the Turks and Caicos Islands.
Punta Cana hosts the world's first privately owned international airport making it a favored transportation hub for Israeli gun merchants operating in the Western Hemisphere domain of Roger Noriega, Guy Phillipe, Stanley Lucas, Group 184 et al. More than 90% of the wind swept mega-resorts are owned by Spanish Nationalist types who also dabble in Haitian political consultancy and fixing — that is — when they're not preoccupied with "imports and exports." The resort sharks, vultures and condors plan; and the coyotes cruise. For a couple days they have to stay indoors.
HaitiAction.net will be tracking the progress of this storm. For the latest official updates, go to the Centre National de Météorologie (CNM) web page Many forecast and tracking resources can be found on the Tropical Cyclone page at HaitiAction.net
----------
  RAW
----------
Share this story with your networks

SEE ALSO
Contact: info@haitiaction.org
Haiti could kill EMILY's strength, but many in camps will still have a sleepless night Aug 3
Haiti: Alarming resurgence of cholera Jun 9
La Gavage: Obama helps Republican militarists take control in Haiti May 13
The return of President Aristide to his home in Haiti Mar 20
Haiti: MSF Nears 100,000 Cholera Patients Treated Jan 18
Workshop for Haiti Media: Protocols on sexual gender-based violence in Haiti Apr 26
Grassroots groups present counter-perspective on Haiti's human rights record Mar 26
Mesaj Prezidan Aristide lè li rive an Ayiti 24 Mar
US Embassy in Haiti, respect the Will of the People of Haiti
Congresswoman Waters opposes plot to control Haiti Jan 18