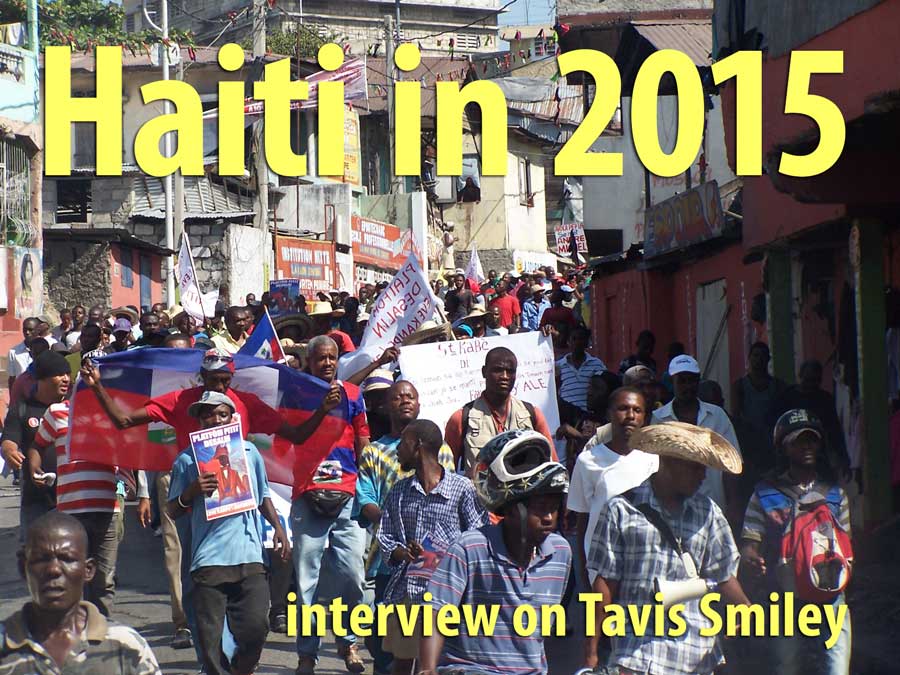 Demonstrations against the "selected" Martelly government occur almost every day. This one was in Port au Prince on January 15, 2015 image ©2015 Teledyol / Daniel Tercier : photographer
Haiti in 2015 interview on Tavis Smiley
by Randall White
HaitiAction.net - Port au Prince, Haiti — Haiti activist Pierre Labossiere appeared on Tavis Smiley (PBS) this week to for an update of the current situation, five years after The 2010 Earthquake of Haiti. The episode featured discussion on the failure of the "reconstruction" effort headed by Bill and Hillary Clinton.
[ It's interesting to note that the Clinton Global Initiative chose to use the spoofed name "Haiti Action Network" for their effort ]
Pierre Labossiere, of the Haiti Action Committee ( http://www.haitisolidarity.net ) outlined several conditions that have only become worse after the Clinton intervention began — housing, political instability and capacity. Shortly after the disaster, the UN occupation forces — MINUSTAH — added to the malaise by infecting the population with a deadly Cholera Epidemic as a result of their criminal negligence and obfuscation of the facts:
Tavis: You said a couple of things about the U.N. that I want to go back and pick up right quick.

Labossiere: Sure.

Tavis: Number one, as unintentional as it might have been that U.N. workers were doing their business in the river and folk [.edd downstream ] were drinking that water, five years later, did the U.N. ever make any–was there any recompense for that? [.edd Cholera Epidemic] Any remuneration there? What happened? Did the U.N. ever step up with anything?

Labossiere: No. That's a big issue. No, they haven't done anything because they are saying they have immunity. They spent many years saying that they had nothing to do with it, but then they are saying right now that they have immunity.

Tavis: We didn't do it, but if we did do it, we have immunity. That's their position.
The interview contrasted conditions in Haiti after the US-led Coup dÉtat of 2004, when US Embassy officials kidnapped the democratically elected President Jean Bertrand Aristide.
Tavis: But I remember what you referred to a moment ago as a U.S.-led coups of Aristide…
…I was in Miami about to board a private plane to go to Haiti to interview President Aristide at the presidential palace. He'd granted me an interview because all this stuff was about to go down.

Aristide grants me an interview, I'm about to hop on this plane to head to Haiti, Port-Au-Prince, to interview him and I got a message from Secretary of State Colin Powell that that might not be a good idea … I'm watching CNN a few minutes later, you know, an hour or so later, I see Aristide is being whisked out of the country by U.S. forces.
The full interview is available both as video streaming and transcript at the Tavis Smiley section on KQEDs website
Pierre Labossiere will be involved with a Study Group in Berkeley that is open to the public starting at the end of this month -
----------
  RAW
----------
Share this story with your networks

SEE ALSO
Contact: info@haitiaction.org
Haiti's Fanmi Lavalas will continue their mobilization
Oct 6
Prisoners of Sugar May 7
1,500 Cholera victims in Haiti file lawsuit against UN in New York today Mar 11
UN Peacekeeper Misconduct in Haiti: panel discussion this Wednesday in Washington, DC Feb 24
Deadly politics in Haiti: new allegations against Lavalas invented as PM announces the scheduling of elections Jan 19
Lovinsky Pierre Antoine
We are not Ghosts and will not be silenced July 19 2007
In Haiti, thousands of Lavalas sing "Aristide or Death!" Jan 9
Is the US Embassy in Haiti behind the political tensions? Jan 5
Haiti: Where is the Money? - Researcher Version Jan 4 2012
La Gavage: Obama helps Republican militarists take control in Haiti
May 13 2011
Haiti's close call: Hurricane IRENE scrapes the Mossad Coast before heading north Aug 22 2011
Hurricane MARIA could threaten Haiti next week Sep 6 2011
Haiti could kill EMILY's strength, but many in camps will still have a sleepless night Aug 3 2011
Haiti: Alarming resurgence of cholera Jun 9 2011
The return of President Aristide to his home in Haiti Mar 20 2011
Haiti: MSF Nears 100,000 Cholera Patients Treated Jan 18 2011