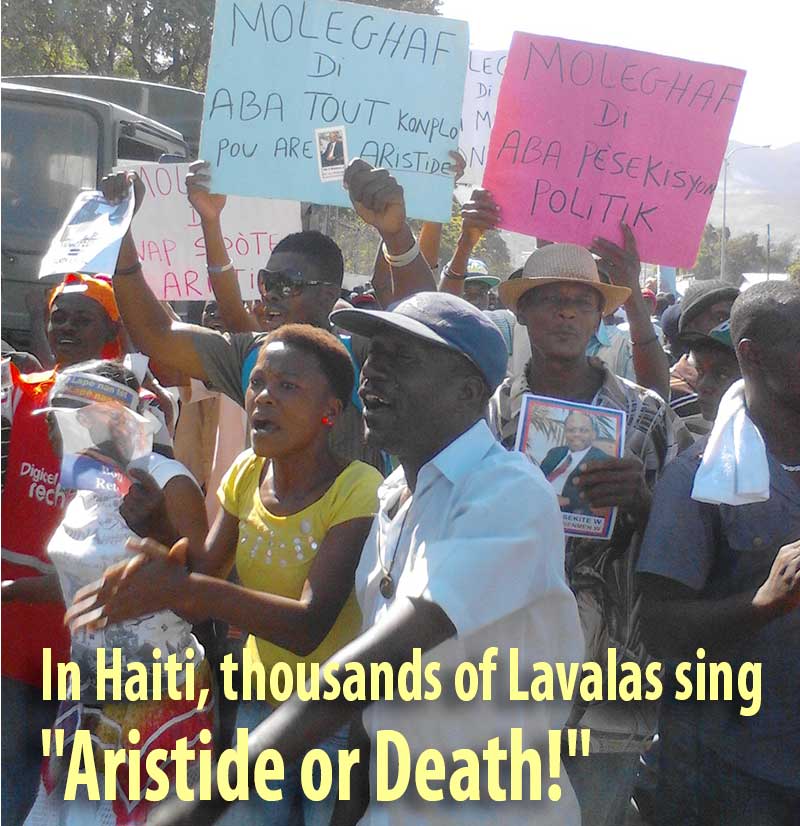 These members of MOLEGHAF are singing "Titid ou lanmò!" outside the courthouse in the morning. They would all walk the ten mile march to Jean Bertrand Aristide's house and sing the same song that afternoon.
In Haiti, thousands of Lavalas sing "Aristide or Death!"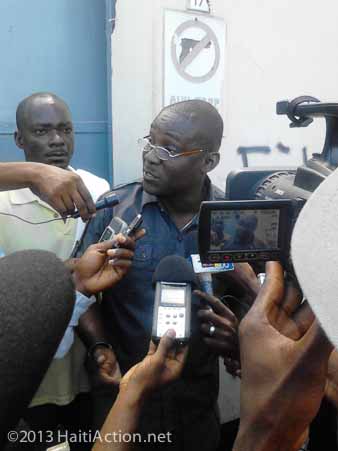 Fanmi Lavalas mobilization committee spokesperson — Ansyto Felix — was relaying to the press that "the cost of living was not expensive when Aristide was President of Haiti. Today there is political persecution of those who are hungry."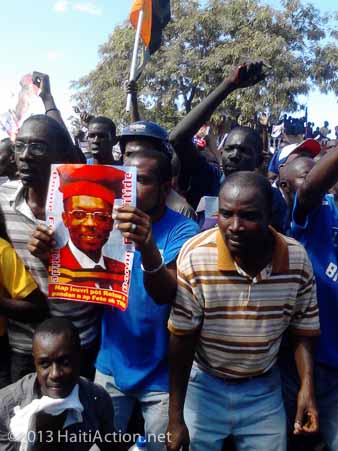 These ex-employees of APN, TELECO, SMCRS, ON — who lost their jobs after The Coup are saying that they prefer to be dead than betray Aristide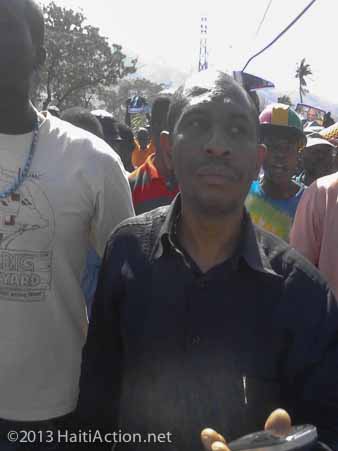 Manifestaysion coordinator Rene Civil was talking to Senator John Joel Joseph about the prosecutor Lucmane Delille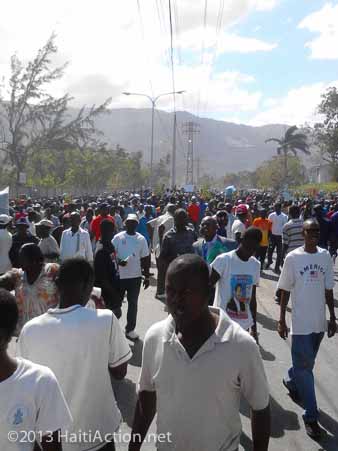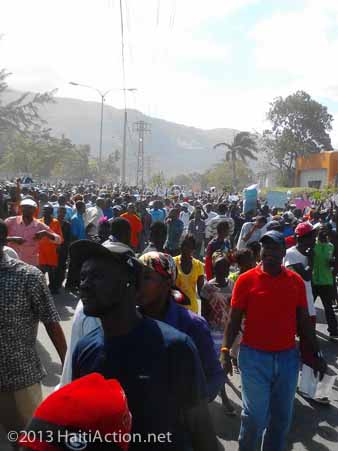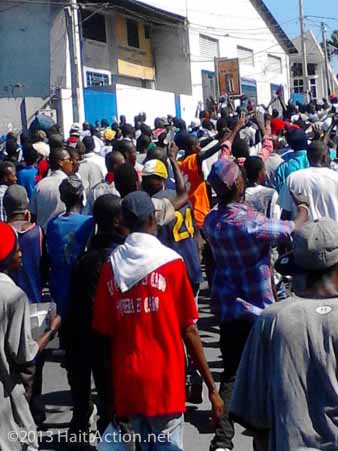 by Randall White - photos: Garry Dolcine
HaitiAction.net - Port au Prince, Haiti - Fanmi Lavalas leaders, Rene Civil and Lionel Etienne, kept their word that they would mobilize their political movement to show the commitment of the People of Haiti to the vision of former President Jean Bertrand Aristide. They would not forget the 21 demonstrators still in prison after the December 16th action.
Yesterday, they demonstrated that commitment with a major "Manifestaysion" that started at the government's courthouse in Bicentennaire in the morning where they expected Aristide to show up in answer to a summons from the government's prosecutor. More than anything, their non-violent direct action was brutal on their feet.
Their original intent which included the arrival of Aristide, didn't really happen. As is often the case with these major events, the puppets of the US Embassy that claim to be in governance of the country will do anything they can to frustrate that allegiance of the Fanmi Lavalas militants to their original vision of a participatory democracy. The government decided that with all of the mighty resources they have, they could not provide adequate security for an Aristide appearance at the courthouse. As a diversion, they did the questioning at Aristide's house — miles away in Tabarre — at the same time the demonstrators would be at the courthouse. For most "committed activists," the government's diversion, would have meant that there would have been a short and subdued rally, then everyone would just … go home …
    …
Welcome to what it means to be part of a real Fanmi Lavalas Manifestaysion! You talk with your feet…
Of course, the crusty-core had a short warm-up rally at the courthouse — where many of the faithful had already walked from their houses 2-5 miles away to get there in the morning. But, they didn't walk all that way just for a pep rally and, Tampico and banana chips. No way!
After Fanmi Lavalas mobilization committee spokesperson — Ansyto Felix — provided the obligatory press conference outside the courthouse, Rene Civil lead the gathering of thousands on a collective stroll across larger Port au Prince to Aristide's house; on a winding march of almost 10 miles for the next four hours. When you try to discourage the excluded, Fanmi Lavalas just comes back stronger. If you're Lavalas, you have to be flexible for the expected challenges; a good pair of shoes and a water bottle will be, mostly, what you need — along with being able to carry the tune to "La Dessalinienne."
Haitians can always go one better. If you're Lavalas, you're expected to be able to make "lemons out of lemonade." Lavalas will make something whole out of something that was crushed before.
Members of the MOLEGHAF collective of Lavalas were singing "…we want Aristide or give us Death! … " as they started the ten mile march, even the elderly members made it all the way to Tabarre. Thousands more picked up that tune all the way as well. After leaving the courthouse, the route took them along Boulevard La Saline, Carrefour Aviation, Route Delmas, down Route de l'Aeroport then finally through Tabarre to Aristide's house in the afternoon. Of course when all is said and done, if you live in Cite Soliel — you're only half finished, it's a long way back home. If you're on Delmas 33 or Cazeau, not so bad. If you're from Petionville, you probably just drove anyways (lazy Gwo Mango), better take somebody home with you…
Some have been saying that this latest series of attacks on Aristide's credibility is just another continuation of the US-sponsored Coup d'État of February 29th 2004. As for some of the erstwhile militants who seem to have sold out to the Martelly crowd, many more former (surviving) Lafanmi Selavi members are now organizing a response to these politically motivated complaints and you can expect to hear from them soon.
In actuality they are singing, "Titid ou lanmò!" which is a variation on an old patriotic saying "libète ou lanmò" — "Liberty or Death." While the usual anti-Aristide Agency scholars like to characterize this chant as an ominous "mob-rule" tendency of the "popular will" vs. "civil society," it promises something completely different. Fanmi Lavalas has always steered toward peaceful resolution in the face of the oppressive persecution of the dominant powers. Preferring the total inclusion of the powerless into governance. To retreat is death, anyways, so going forward into the face of danger is progress.
Share this story with your networks
HaitiAction.net is making a special fundraising call for the benefit of the Rara musicians that are trying to recover from December 16th's Manifestation and need to buy new instruments for the upcoming Kanaval season. Donations can be made online to the Rara Fund for now. If you wish additional information, send your questions to info@haitiaction.org
click fund logo above to donate
The Rara Bands are a vital component of the pro-democracy demonstrations in Haiti. Each band is usually organized around a community and the leaders (maestro) are usually pressed for other concerns of benevolence for that community. The HaitiAction.net readership has been quite generous in the past with their donations to Haiti through this news website; coming up with the resources to re-equip these musicians and their community will be a relatively simple goal.
As we prefer to encourage the benefits of a tax paying society, and that the Rara bands that we're involved with are striving for the full participation of Fanmi Lavalas in the electoral politics of Haiti this particular project is NOT tax-deductable.
Share this story with your networks

SEE ALSO
Contact: info@haitiaction.org
Is the US Embassy in Haiti behind the political tensions? Jan 5
Haiti's police rough up Lavalas demonstrators commemorating Aristide's first victory Dec 23
Haiti: Where is the Money? - Researcher Version Jan 4 2012
La Gavage: Obama helps Republican militarists take control in Haiti
May 13 2011
Haiti's close call: Hurricane IRENE scrapes the Mossad Coast before heading north Aug 22 2011
Hurricane MARIA could threaten Haiti next week Sep 6 2011
Haiti could kill EMILY's strength, but many in camps will still have a sleepless night Aug 3 2011
Haiti: Alarming resurgence of cholera Jun 9 2011
The return of President Aristide to his home in Haiti Mar 20 2011
Haiti: MSF Nears 100,000 Cholera Patients Treated Jan 18 2011