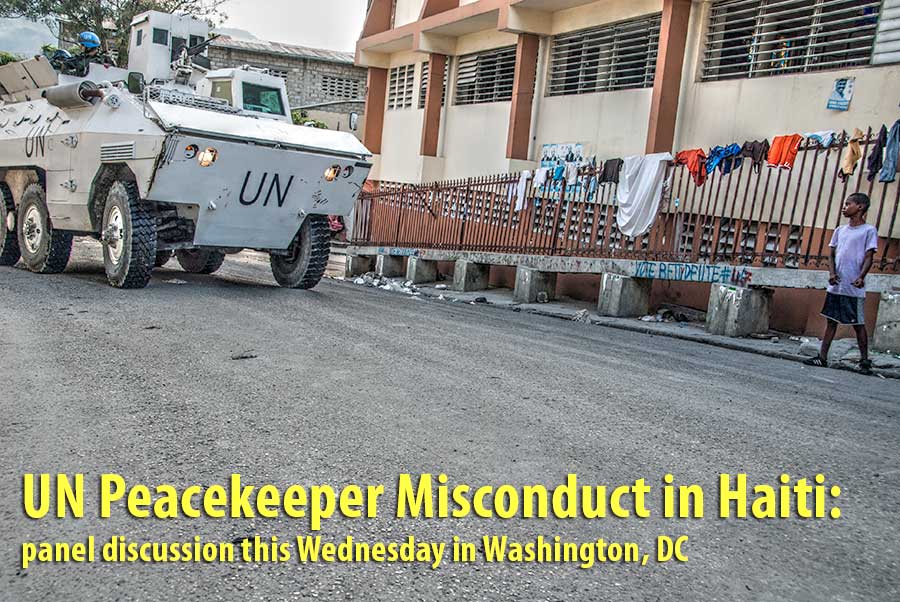 photo ©2011 Randall White
UN Peacekeeper Misconduct in Haiti: panel discussion this Wednesday in Washington, DC
Watch this event live - streaming at http://www.asil.org/live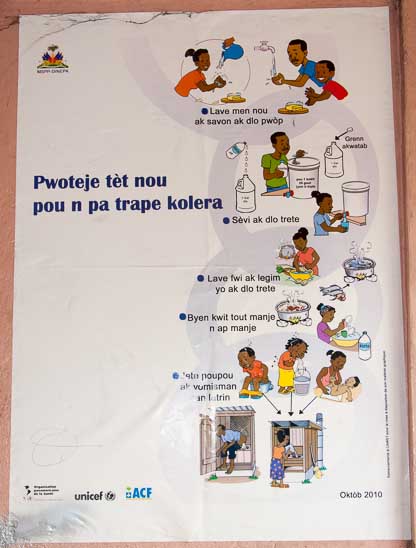 The PR department of the UN went into action soon after the start of the crisis with this weak attempt at damage control. Here we are years later with 8,000 dead and likely over 1 million victims. When will the UN take responsibility without outside pressure?
HaitiAction.net - The American Society of International Law (ASIL) will be hosting a panel discussion about the remedies available for UN Peacekeeper misconduct will take place this Wednesday — February 26th, 2014 — at the Tillar House near Embassy Row in Washington DC. The ASIL headquarters is located on Sheridan Circle NW.
IJDH Board Chair Ira Kurzban will speak in a panel on UN peacekeeper misconduct, especially in the case of cholera in Haiti. This is a high profile event that's sure to be an interesting discussion of not only problems but also potential solutions to peacekeeper impunity.
The ASIL notice stated: "Allegations of misconduct and other activities by UN Peacekeepers that may result in harm to third parties raise serious concerns. The UN has put in place a zero tolerance policy, improved training and instituted a host of measures designed to prevent misconduct and implemented a regime for responding to claims that result from the activities of Peacekeeping missions. But, what happens when prevention is not fully successful? What about the victims of abuse? What remedies are or should be available to such victims or to others that may have been injured as a result of UN Peacekeeping activities? This program will examine these issues in the context of the cholera epidemic in Haiti and charges of sexual exploitation and corruption involving peacekeepers in other missions and other developments."
Moderator:
David Birenbaum, former US Ambassador to the UN for Management; Of Counsel to Fried Frank, Washington, DC.
Speakers:

Jose Alvarez, NYU Law School, Herbert and Rose Rubin Professor of International Law
Ira Kurzban, Partner at Kurzban, Kurzban, Weinger, Tetzeli and Pratt PA and a lead attorney in Georges, et al v. United Nations, the case initiated against the UN for bringing cholera to Haiti
Bruce Rashkow, Columbia University, Lecturer in Law, former highest ranking American in the UN Office of Legal Affairs, 1995-2005, and former Assistant Legal Adviser for UN Affairs in the State Department's Legal Advisers office, 1987-1995
 
Registration Information:
Members of ASIL = Free.   Non-ASIL Members = $15.00
 
Members of the UNA/NCA, ABA(?), WFLS and Students of ASIL Academic Partner Schools = Free with discount code "UNPART"]
For a moderate price a couple rooms may be available next door at the Embassy Circle Guest House.
If you can't make the discussion, you can watch it online. Streaming at http://www.asil.org/live
ASIL Headquarters, Tillar House
2223 Massachusetts Avenue, NW
Washington, DC 20008-2847
Share this story with your networks

SEE ALSO
Contact: info@haitiaction.org
Deadly politics in Haiti: new allegations against Lavalas invented as PM announces the scheduling of elections Jan 19
Who really killed Jean Dominique and Jacques Roche? April 13, 2006
Human Rights Violations in Haiti: February - May 2004
Report Date: July 19, 2004
We are not Ghosts and will not be silenced July 19 2007
In Haiti, thousands of Lavalas sing "Aristide or Death!" Jan 9
Is the US Embassy in Haiti behind the political tensions? Jan 5
Haiti: Where is the Money? - Researcher Version Jan 4 2012
La Gavage: Obama helps Republican militarists take control in Haiti
May 13 2011
Haiti's close call: Hurricane IRENE scrapes the Mossad Coast before heading north Aug 22 2011
Hurricane MARIA could threaten Haiti next week Sep 6 2011
Haiti could kill EMILY's strength, but many in camps will still have a sleepless night Aug 3 2011
Haiti: Alarming resurgence of cholera Jun 9 2011
The return of President Aristide to his home in Haiti Mar 20 2011
Haiti: MSF Nears 100,000 Cholera Patients Treated Jan 18 2011