God's plan for Haiti?
by Kevin Pina
Port au Prince, Haiti - HIP — Sunday's evangelical spectacle in the center of Haiti's capital topped off three days of religious events blurring the line between church and State to such an extent that it would have made Pat Robertson green with envy. It would have brought tears to the old man's eyes as preacher after preacher took the stage in this state-sponsored event on Sunday confirming Robertson's underlying assumption: the Haitian people must have turned their back on God inviting his wrath in the form of an earthquake that struck on January 12.
Although Haiti's evangelical preachers didn't embrace Robertson's theological assertion that Haiti was a nation created through a pact with Satan, the subtext of punishment by an angry God and the need to repent were essentially the same. That Haiti lies on a major earthquake fault and may experience another major quake within 25 years was never mentioned to the repentant throngs.
This did not in any way diminish the authentic spiritual outpouring and mourning of those who lost loved ones in the quake and who now suffer uncertain lives in the streets of the capital. Their heartfelt cries of grief and pleas for redemption were enthusiastic and moving. Tens of thousands of desperate sheet-tent dwellers in the immediate area were, after all, the captive core audience of Sunday's evangelical extravaganza broadcast live on several television stations including the government owned Television Nationale d' Haiti.
A woman preacher named Sister Jinou Brutus from Orlando, Florida delivered one of the most interesting sermons of the day. Known as Sister Jinou, she told the audience in somber tones that she had warned Haitian president Rene Preval months before that an angel had visited her in a dream to tell her that the earthquake was coming. She then spoke in an impassioned voice saying that the angel had visited her again and had revealed to her God's plan for Haiti instructing her to give it to Preval.
As the captivated audience listened she said that God wanted Haiti to have 24 hours of electricity for everyone and said that they should develop, and she said this last term in English, "windmill farms." In an interesting twist Sister Jinou said that the Lord asked that they specifically not turn to California or the United States for the technology but look for it in Germany.
Continuing to mix technical terms in English with Kreyol she went further to say that God wants everyone in Haiti to have clean water and the angel told her they needed "desalinization plants" and to master the power of "reverse osmosis." God also wants Haiti decentralized and "healthcare" she said then pausing to ask her entourage for the Kreyol translation to which they all replied "santé." So many English terms and phrases peppered Sister Jinou's delivery that one got the distinct impression that the angel that visited her to deliver God's plan spoke in English.
After fifteen minutes of this one also couldn't help but marvel at how closely God's plan resembled that of Clinton and the international community for Haiti. The only thing that seemed to be missing was an insistence on sweatshops as the foundation for Haiti's economic development and near virtual slave wages for factory workers. Still, the more enlightened elements of the plan were clearly there.
©2010 Haiti Information Project
see also
Protesters clash with police following rain in Haiti Feb 11
If Obama can do it then why can't Haiti's Preval? Feb 9
Haiti: hell and hope Jan 28
On the ground in Port au Prince Jan 28
Two-faced Democracy in Haiti Nov 26
Perverted Priorities: Corpses, sham elections, and sweatshops in Haiti Apr 10
"Thank you Bill Clinton" — one more assassination by UN troops in Haiti Jun 20
Contact us: info@haitiaction.org
Contact us: info@haitiaction.org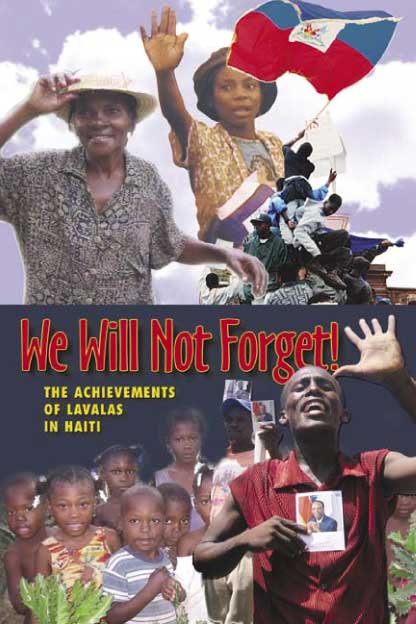 Contact us: info@haitiaction.org