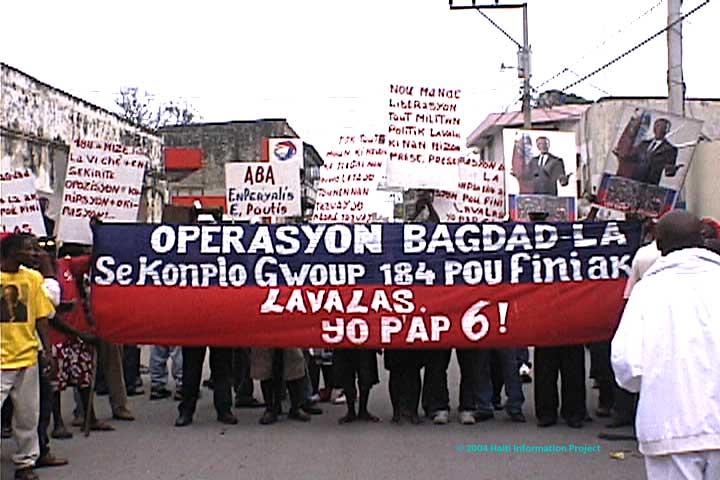 ©2004 Haiti Information Project - Cap Haitien - December 16, 2004 - Peaceful Lavalas Demonstration
Banner translates to: "Operation Baghdad is a plot by Group 184 to put an end to Lavalas. They will Fail!"
Massive Protest demanding Aristide's return
in Haiti's second largest city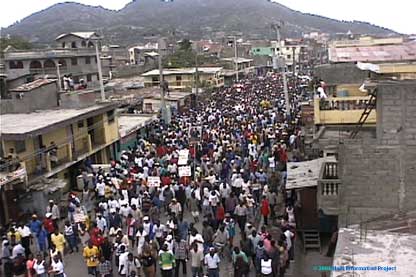 click
this photo for larger image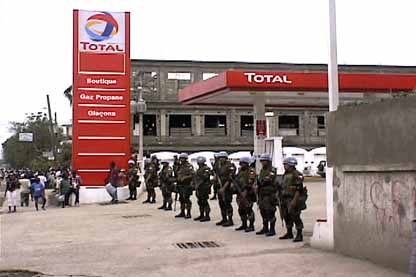 UN forces were pre-occupied with protecting private property like this gas station in Cap Haitien. This stands in stark contrast to their support of the US-installed government's theft of property belonging to President Aristide and members of his Lavalas political party. Latortue and his cronies have stolen private residences, radio stations, television stations and other private property throughout Haiti since February 29th. The UN occupies the Popular University facility built by Aristide with private funds to educate and train new doctors and nurses in Haiti in violation of laws protecting private property.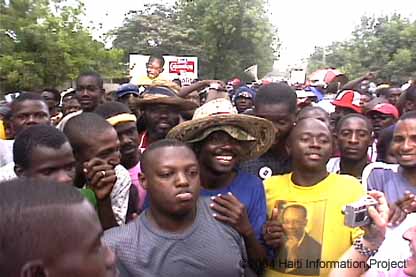 Moise Jean-Charles melts into the huge crowd unannounced. Residents react with joy and surprise when they realize he has joined them. Jean-Charles has been in hiding since Haitian police and UN troops invaded his home on June 14th. Jean-Charles is the founder of a local peasant movement called Movement of Milot Peasants (MPM) and the former popular mayor of the town of Milot located below Haiti's most famous tourist attraction, the Citadel.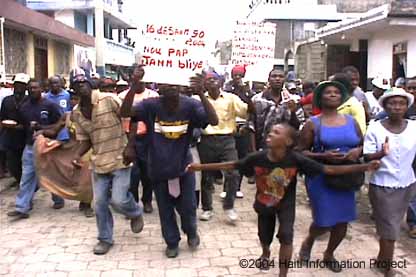 Sign reads, "December 16, 1990. We will never forget."

Editors note: We can't avoid tootin our horn here to celebrate the effectiveness of NonViolent direct action, activism and alternative media.

Search The Web for any other story — with pictures that show they were actually there to get the real facts, not sittin on the veranda of some overrated hotel — that covered this newsworthy event. All credible reports stated that no other news media was there — even though it was a significant operation for the UN MINUSTAH troops. With all their resources, the corporate media is not providing you with real coverage in Haiti.

While ALL credit for this successful demonstration must go to the courageous People of Haiti and Fanmi Lavalas, it should be noted that members of the Haiti Action Committee traveled to Cap Haitien at their own cost and significant personal risk to meet with PNH and UN officers to negotiate for a peaceful event.

Get involved, support the Haiti Action Committee.
Cap Haitien, Haiti (HIP)
- On the anniversary of President Jean-Bertrand Aristide's first electoral landslide in 1990, more than 10,000 Haitians took to the streets of Haiti's second largest city to demand his return and an end to repression against his Lavalas political party. Aristide was ousted last February 29th amid charges he was kidnapped by U.S. Marines and remains a guest of the Republic of South Africa where he resides.Following earlier negotiations with Chilean troops of the United Nations and the Haitian National Police (PNH), an agreement was reached with organizers to provide security for the peaceful demonstration. One organizer stated, "Although we see the UN and the police allowing us to demonstrate peacefully today for the return of our president in Cap Haitien, we have no illusions that their role could turn repressive once again. Even though we are happy for their cooperation today, we cannot forget it was the same UN that stood by and allowed the police to kill unarmed demonstrators in the capital on September 30th. It is the same UN that has allowed the illegal government of Gerard Latortue to fill the prisons with Lavalas and has allowed the former military to return and kill us."
A huge banner accusing the Group 184 of having orchestrated accusations against Lavalas of mounting a violent campaign called "Operation Baghdad", led the demonstration. Another organizer of today's demonstration who asked not be identified explained, "It was the Group 184 and Apaid who twisted the violence following September 30th into further justifying our extermination. Everyone knows September 30th began as a peaceful protest that degenerated into violence after the UN stood by as police opened fire on the crowd. We, in Lavalas, categorically reject the assertions of Apaid's puppet Jean-Claude Bajeux, a so-called human rights activist, and the international press that there was ever any such campaign by our movement. It was a fabrication that fed the violence to justify our slaughter and we denounce those who use it to portray our movement as gangsters and bandits. Today we reclaim our right to peacefully demonstrate to demand the return of our constitutional President Jean-Bertrand Aristide."
Chanting "Aristide must return!" and "We will never accept the kidnapping of our president!" thousands of residents poured from the poor neighborhoods of Cap Haitien to join the demonstration. The massive crowd broke into frenzy at the monument of Vetiere, which commemorates the defeat of the Napoleon's armies in 1804, when Moise Jean-Charles joined them. Jean-Charles is the founder of a local peasant movement called Movement of Milot Peasants (MPM) and the former popular mayor of the town of Milot located below Haiti's most famous tourist attraction, the Citadel.
Today's festive and peaceful demonstration in Haiti's second largest city stood in stark contrast to the atmosphere of fear and violence in the capital of Port au Prince since September 30th. Two days ago the UN and the US-installed government stood by as members of the Haiti's former brutal military seized the former residence of Aristide in the suburb of Tabarre less than a mile from the headquarters of an organization he founded called the Aristide Foundation for Democracy. Many in Lavalas considered the takeover to be an orchestrated provocation just before the anniversary of December 16th designed to fuel further violence and justify increased repression against Lavalas.